A Living Building Project Journey, Part-2
Snippets from the Charrette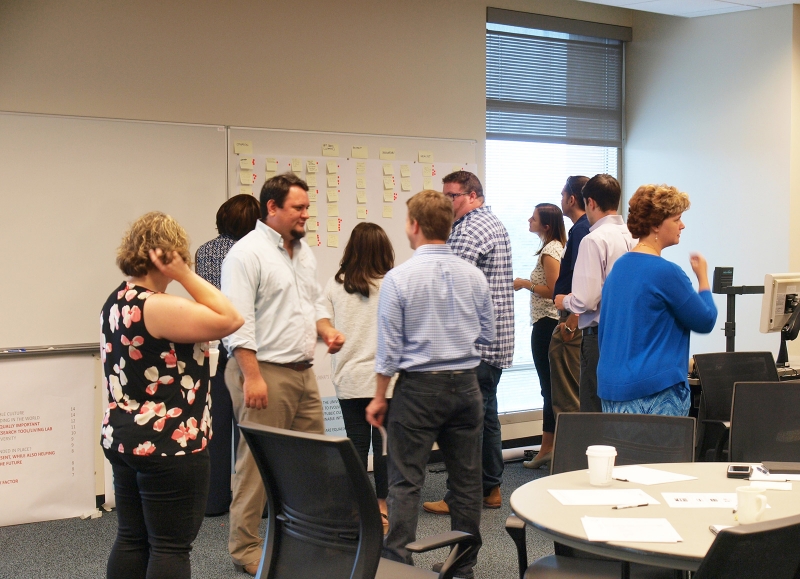 To say that the two-day long charrette was eventful would be an understatement. Broadly, the first day collected stakeholder feedback, while the second day turned the feedback into action items for the design process. From individual goal setting (which was subsequently voted on collectively to rank project priorities), to brainstorming of the top five ideas by interdisciplinary groups, no stone was left unturned. To cite one ambitious goal, one participant felt that the building's appeal should lead to it being sought after for social events like weddings. To indicate one creative idea, a 'Pokémon Go' styled augmented-reality method was suggested for learning about the building after it was built, where every material would have a QR code that could be scanned and explored further. A sampling of some of the strong themes which emerged follows, not in any order of priority.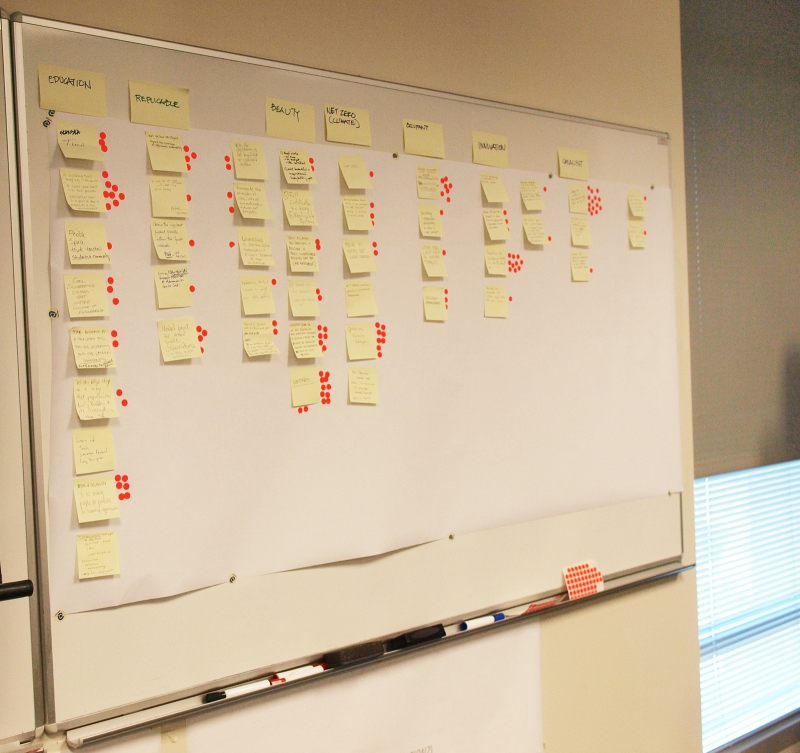 Urban Agriculture
Urban agriculture, an imperative under the Place Petal of the Living Building Challenge (LBC), evoked an unexpectedly strong response from a cross section of participants. The core of exploration of this topic hinged on soliciting an understanding of what Urban Agriculture truly meant for Georgia Tech (GT), in the context of both their immediate campus and surrounding metropolitan Atlanta. What is the right scale of such an intervention? Would there be an active champion? How would the building's urban agriculture fit into the institution's broader urban agriculture strategy now under development? It was suggested that given the existing need for local and healthy food, GT should lead the process of creating a market for urban agriculture. Here are some noteworthy strategies that were discussed:
Goats on the roof
Growing hops that would create a Living Building IPA brand
Bringing peach trees back to Peachtree Street
Bringing a farmer's market into the building
Use of composting toilet leachate to fertilize urban agriculture
Determining the urban agriculture scope based on the available water budget
Bio-centric vs. Anthropocentric agriculture (other species need food too)
The need for an urban agriculture subcommittee was recognized.
Site
The site will have to be a smaller portion of the broader adjacent planned Eco-Commons district. Defining the extents of the site started with a series of questions.
What services does the site need to provide?

Treat greywater, collect rainwater, house urban agriculture, house geothermal wells, etc.

How does the LBC site interface with adjacent sites?
How would the contractor use the site for staging and conveyance?
How will the existing site topography accommodate universal design?
What are the considerations for promotion of biodiversity of landscape and animals?
Can an outdoor space for a gathering of 500 people be accommodated?
How can biophilic aspects such as 'prospect and refuge' and 'fear and awe' be accomplished?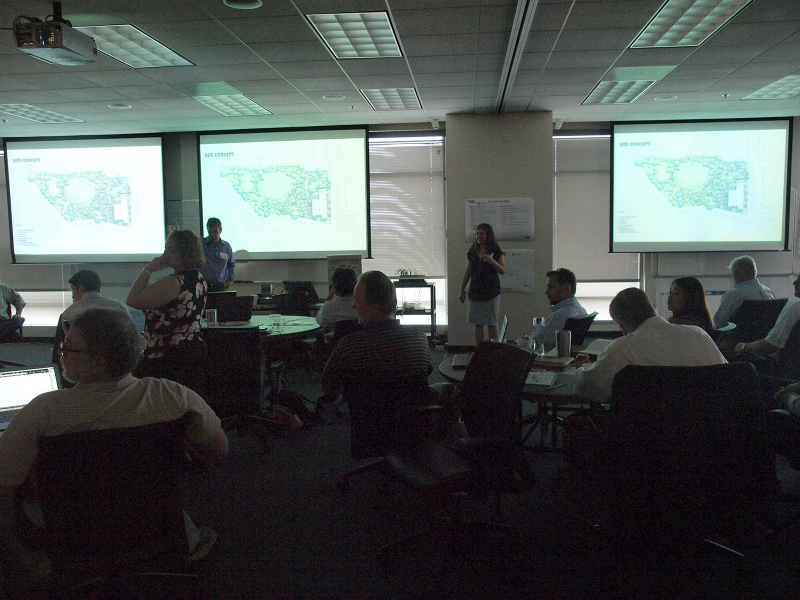 The questions set off a process that will eventually lead to the determination of the LBC Site Boundary and a context for the building and the services it requires. One of the clearly stated objectives was to blur the line between the outside and the inside.
Materials
While Red List chemical avoidance lies at the heart of the LBC Materials strategy, other aspects such as procurement timeline, cost impacts, durability, etc., require careful planning. Based on collective previous LBC experience, it was anticipated that about 1,000 materials would have to be vetted, at a time expenditure of eight hours per material. To put that in perspective, if only one person spent 40 hours a week on material vetting, the complete exercise is roughly a four-year time commitment.
It is also expected that achieving the 'Responsible Industry' imperative under the Materials Petal will be a formidable challenge. The imperative requires that all wood on the project be Forest Stewardship Council (FSC) certified. On most other projects this would be a simple matter of writing up a tight specification but in Georgia, especially on state-funded projects, legislation forbids the use of green building rating systems that work against employment of locally produced timber which uses other less rigorous certification standards supported by the local forest products industry. There are nuances to the nature of funding and the political nature of the challenge, but they are detailed enough to merit their own future blog post.
Towards the end, a 'materials working group' was established comprising of people from the design and construction management teams. The materials working group intends to get an early start on materials research.
Architecture and Solar Control
Fenestration design that integrates aspects of solar control and daylighting will be key to achieving net positive energy and occupant satisfaction. Passive site features such as trees and sculptures that cut solar gain on the east and west-facing glazing figured heavily in participant feedback. Also recognized was the need for balancing such features with something akin to a screen on the façade of the building that occupants can control to more readily modulate their environment.
Biophilia
E O Wilson's definition of Biophilia, the innate tendency of humans to focus on life and life like processes, was invoked. A one-hour discussion on Biophilia during the kickoff laid the groundwork for a future day long exploratory session, which is an LBC requirement. The eventual goal is to create a biophilic framework and plan for the design. The following priorities were identified for the approach to incorporating Biophilia:
The need to take an evidence-based middle path between the extremities of being a 'mindless cheerleader' and a 'Debbie Downer'
The need for buildings to go beyond simply copying forms from nature to actually functioning like nature
Strategies such as a green wall that doubled as a greywater treatment system and building enclosures which functioned as selective membranes were identified.
Others
Each of the subtopics can be comprehensive enough to deserve a dedicated post but we will end with a summary list of those that did not figure in the detailed themes above.
A comprehensive approach to water balance with the involvement of regulatory agencies

First cost and operational cost implications of composting toilets and constructed wetlands for blackwater treatment
Conversion of rainwater into potable water
Onsite greywater treatment

Rethinking of the traditional thermal comfort model to inform net positive energy design and broader GT policies
A dashboard that goes beyond tracking energy and water performance and tracks other metrics such as health, happiness, and physical activity. The need for making the feedback more visceral for occupants was stressed.
Programming with flexibility in mind
Community engagement and leverage activities. Two examples:

Georgia Tech Research Institute's (GTRI) research on lowering the installation costs of Photovoltaics
Center for Disease Control (CDC) and Emory's feedback in creating a healthy environment

Pedagogy

Student involvement in materials research during design states
Exploration of how and where students and building users will learn best
Didactic role of the building

An integrative approach delineating areas for CM and subcontractors to collaborate in the design process
Lessons from other LBC projects
Funded through a private grant from The Kendeda Fund, the Living Building at Georgia Tech is expected to become a Living Building Challenge 3.1 certified facility – the built environment's most rigorous and ambitious performance standard. The project's design and build partners include architects Lord Aeck Sargent in collaboration with The Miller Hull Partnership, construction manager Skanska and design team consultants: Newcomb & Boyd, PAE Consulting Engineers, Uzun + Case, Biohabitats, Andropogon and Long Engineering.
Comments
---