A Living Building Project Journey, Part-7
Urban Agriculture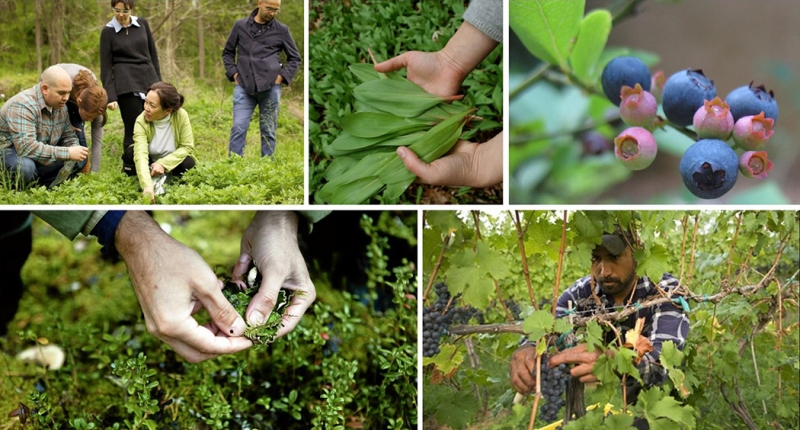 "A more resilient food system has more distributed food production, with greater availability of locally grown and locally processed foods," argues Alex Wilson of the Resilient Design Institute.
A similar philosophy drives the Living Building Challenge's (LBC) Urban Agriculture Imperative, one of the tenets of the rating system's Place Petal. Under LBC v3.1, this imperative requires that projects dedicate a pre-determined percentage of the project site – ranging from 1 to 50% – to food production. The lower the project's building density, known as the floor-to-area ratio (FAR), the higher the urban agriculture square footage requirement. Even single-family homes pursuing certification are subject to demonstrating the capacity to store at least a two-week supply of food. Given the Living Building at Georgia Tech's anticipated FAR, 20% of the Project Area, or approximately 12,600 square feet, will be dedicated to fostering a healthy, accessible food system.
Local food access is particularly relevant to residents of Atlanta, a city that is no stranger to food insecurity. According to a 2015 Atlanta Journal Constitution investigation, just two years ago Atlanta contained 35 food deserts, which are locations where residents live more than one mile from a supermarket or other reliable source of fresh, nutritious produce, generally due to a lack of grocery stores, farmer's markets and other healthy food providers. The U.S. Department of Agriculture's Economic Research Service found that from 2013 to 2015, approximately 14.5% of Georgians were food insecure, which is greater than the national average of 13.7%
Early in the design process, Georgia Tech formed an urban agriculture subcommittee to work with the team's landscape architects from Andropogon Associates. This collaboration has been helpful in ensuring that the Living Building project's urban agriculture strategy remains relevant to the school's objectives, challenging geographic setting and cultural context. Additionally, Georgia Tech is one of 15 universities nationwide certified as a Bee Campus USA, and the school supports an interdisciplinary undergraduate research and education program called The Georgia Tech Urban Honey Bee Project.
To vet the urban agriculture options that are possible within LBC's parameters, Andropogon conducted a detailed study of different approaches such as intensive agriculture, permaculture, aquaponics, rooftop agriculture and a forage-driven edible landscape.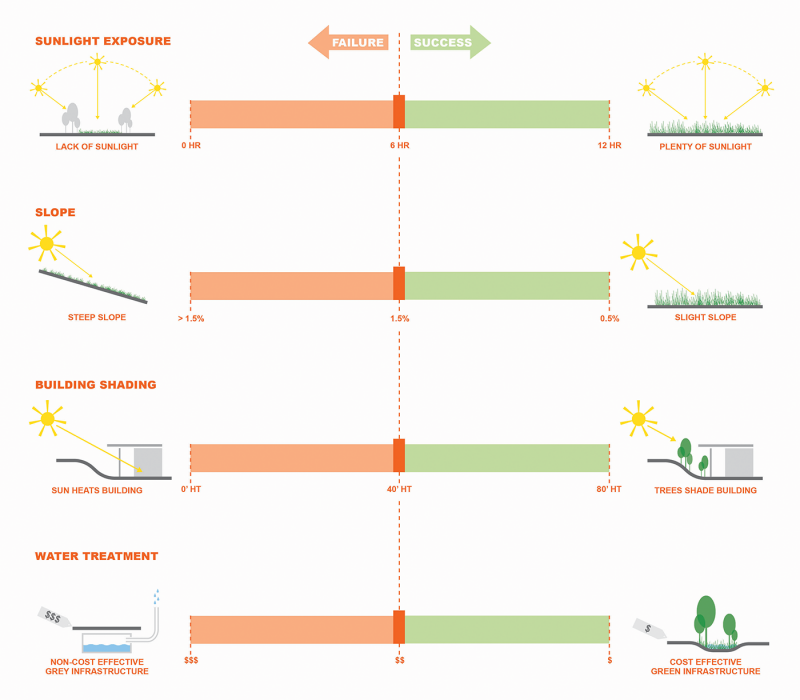 Intensive agriculture includes forms of production, such as row farming and raised-bed gardening, which typically requires high levels of inputs (e.g. water, sunlight, nutrients, labor) and produce abundant edible yields. Most crops that are suitable for this production type require irrigation; well-drained, loamy soil; a gentle slope that encourages infiltration; and at least six hours of direct sunlight per day. Intensive agriculture offers countless health and pedagogical benefits when deployed under appropriate conditions.
The Living Building at Georgia Tech landscape must navigate competing performance demands for rainwater management, passive building cooling, tree protection, healthy ecology and urban agriculture, while providing adequate space for human occupancy and year-round seasonal character. When combined, these conditions present significant challenges to implementing a successful, intensive urban agriculture program on the ground plane. As a result, the project will include the following components:
Rooftop "Farm"
The sunniest, flattest, most secure area within the project site is the roof. The Living Building at Georgia Tech's 2,895-square-foot rooftop farm will consist of a honeybee apiary, pollinator garden and blueberry orchard. These elements will satisfy a portion of the LBC's urban agriculture area requirement while simultaneously offering valuable curriculum and research opportunities; reconnecting students, faculty and visitors with their food system; modeling sustainable, productive infrastructure; demonstrating medicinal uses for plants; supporting pollinators and pollinator habitat conservation awareness; managing stormwater; and helping mitigate the urban heat island effect.
Edible Vine Wall
Additional urban agriculture area will be achieved through two edible vine walls, totaling 1,470-vertical-square feet. The vines will be planted in at-grade planting beds and will grow up guy wires to occupy portions of the auditorium's west façade and southern stairwell's south façade. The auditorium vine wall will provide a green backdrop and shading for the interior space, through a large glass curtain wall. The native vine's edible grapes will require specialized harvesting and can be eaten whole or processed. Georgia-native passion fruit vines will also be considered to supplement the native grape vines.
Pollinator Nectar Source
As a complementary amenity, at least 2,862 square feet of Tulip Tree (Liriodendron tulipifera) canopy, which supports spring flowers that provide southern honeybee foragers with a critical early season nectar source, will be planted. Serviceberry (Amelanchier arborea) and Fothergilla (Fothergilla spp.) will also support bee populations, but these plants will be mixed into the understory.
Edible Landscape
The bulk of the urban agriculture area requirement will be met with a 5,350-square-foot shade-to-partial shade edible ground landscape. Understory trees, shrubs and groundcovers that produce edibles, coupled with interpretive signage, will encourage students, staff and visitors to pick and eat tree fruit and berries from January through December. This landscape will provide nutrition through seasonal edibles, while working seamlessly with the landscape's adjacent proposed mesic woodland and seepage wetland zones to manage stormwater runoff from the site's pavement. Additionally, this type of production requires far less sunlight and maintenance than intensive agriculture and can thrive within a sloped, shaded landscape.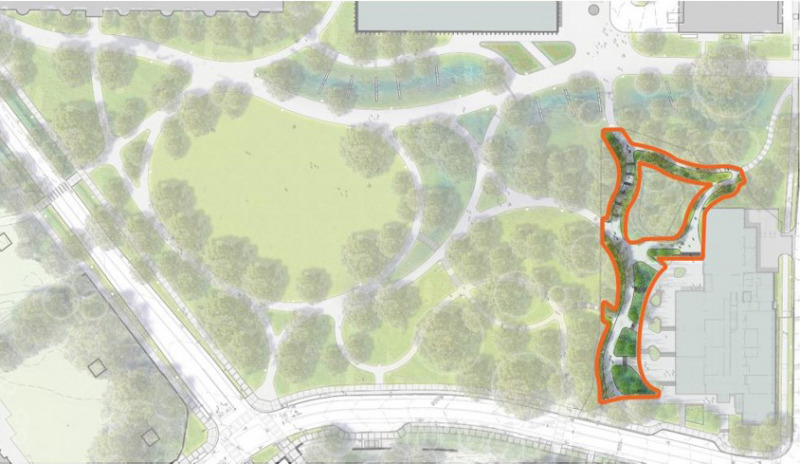 The design and client team agrees that the Edible Landscape offers a sound solution to the LBC's urban agricultural challenge due to the strategy's ability to:
Tolerate shade
Tolerate slope
Fit within the site boundary (no scale jumping required)
Shade the Living Building from strong afternoon sun
Contribute to rainwater management
Thrive without permanent irrigation
Produce edibles year-round for people and wildlife
Meet the project's budget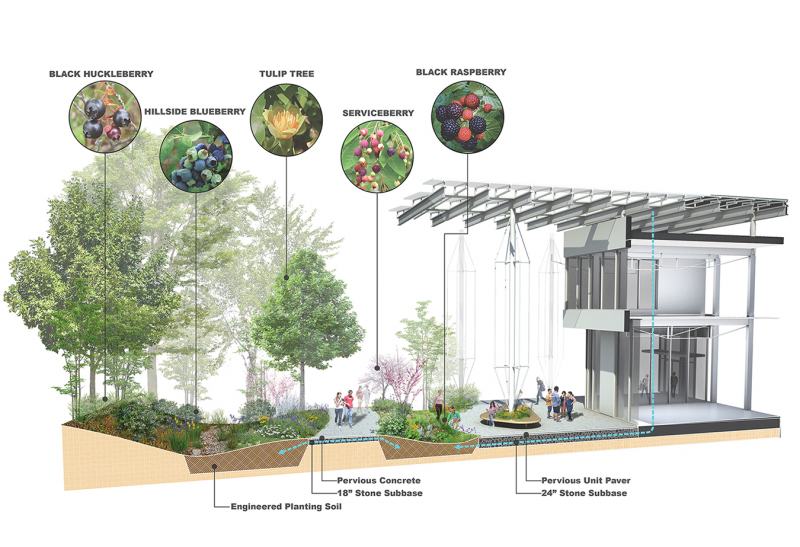 The Living Building at Georgia Tech's urban agriculture strategy is part of a larger, site-wide planting approach that provides social benefits (e.g. shade, food, beauty) and ecological services (stormwater management, carbon sequestration, wildlife habitat, pollinator foraging) while taking cues from the region's local ecology. These characteristics are expected to extend into the adjacent Eco-Commons site, which is in an earlier phase of design.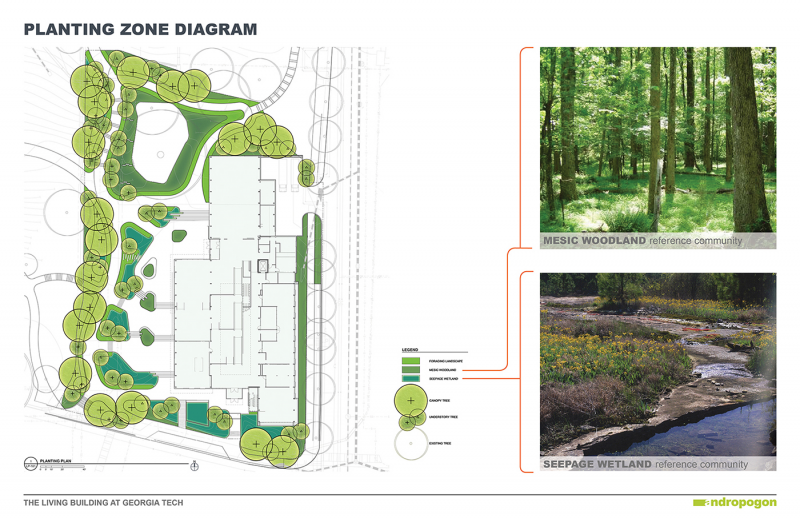 Funded through a private grant from The Kendeda Fund, the Living Building at Georgia Tech is expected to become a Living Building Challenge 3.1 certified facility – the built environment's most rigorous and ambitious performance standard. The project's design and build partners include architects Lord Aeck Sargent in collaboration with The Miller Hull Partnership, construction manager Skanska and design team consultants: Newcomb & Boyd, PAE Consulting Engineers, Uzun + Case, Biohabitats, Andropogon and Long Engineering.
By Ramana Koti, BEMP, LEED AP BD+C, and Andropogon Associates' José Almiñana, PLA, FASLA, LEED AP, Emily McCoy, PLA, ASLA, and Lauren Mandel, PLA, ASLA
Comments
---