Exploring the notion of regenerative design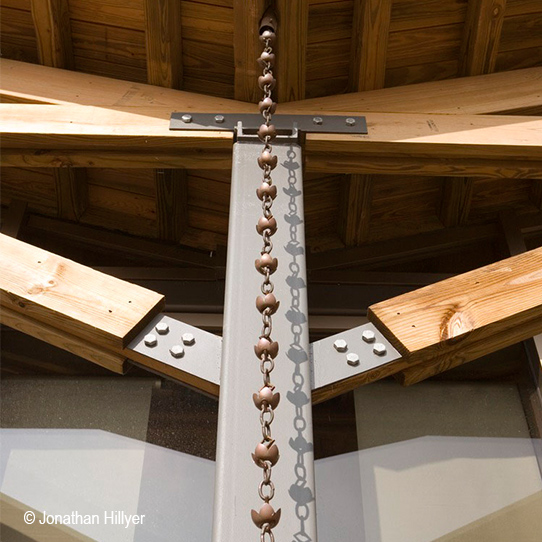 "What you're doing is not important, what is important is the state of mind in which you are doing it." – Constantin Brâncuși as quoted by Marina Abramović in a Guardian article on creativity.
It is easy to read descriptions of regenerative design and wonder if they could have been expressed in simpler, less confusing terms. The answer may very well be 'no' but the idea is definitely worth exploring.
Above all other possibilities, regenerative design asks of us to first develop a new state of mind; a state of mind that is not afraid to base strategies and action on a set of principles; a state of mind that seeks to explore the system or the context along with the element; a state of mind that highly values process as a means to an outcome; a state of mind that seeks to add value to the evolutionary health of the places we inhabit.
One thing that is easy to grasp is that regenerative design places life – human and other forms – at the center and seeks to promote it. Life thrives in the context of nested and complex 'living systems' whose interactions may not be easy to capture via graphics or metrics.
As an architecture professional, I have often wondered how it is possible for architects dealing with things at the building scale to practice regenerative design. According to Bill Reed, an architect with Regenesis Group, a building is an acupuncture point to influence the larger community and the ecological context around it. And in turn, the healthy nature of the larger community and ecosystem can inform the nature, processes and form of the project. In Reed's vision, ecological design culminates in regenerative living systems, transcending fragmented and energy intensive approaches.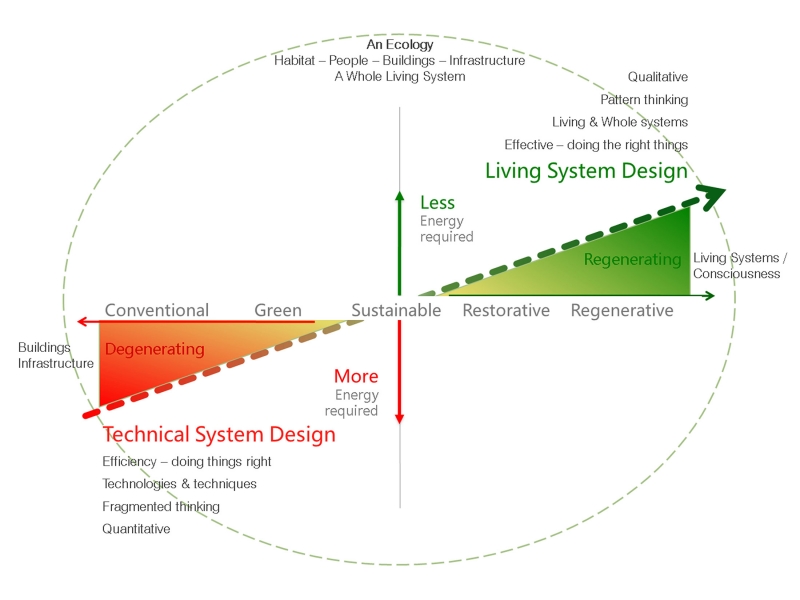 Reed also believes that an integrative process, one that expands the scope of design and builds capacity among all stakeholders, is key to realizing the potential of regenerative design. This thinking is based on an understanding that the barriers to practicing regenerative design are primarily cultural and psychological, not technological.
Reed offers a simple framework for project teams to explore 'purpose' on their project. Define:
Function: What will be transformed in the course of this project?
Being: What new capability in ourselves, our team, and the larger life-shed will be developed?
Will: What is the deep source of our motivation – the purpose of the purpose?
Lord Aeck Sargent, through a recent in-house design forum effort, has articulated seven 'core values' that inform the firm's approach to design:
Imaginative
Context-driven
Mindful
Regenerative
Enduring
Poetic
Holistic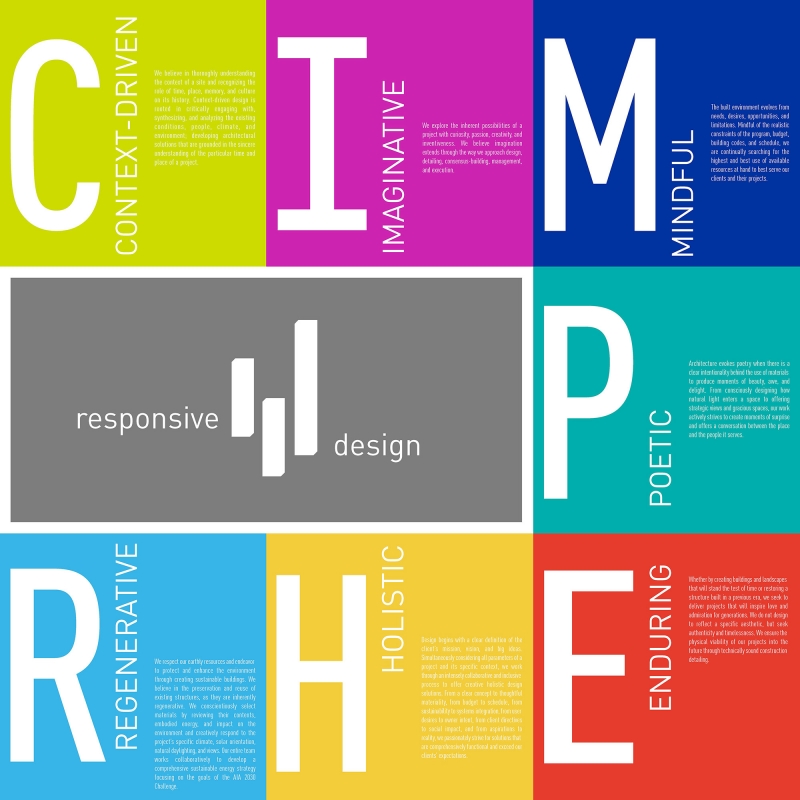 As we strive to put these core values to work on all projects, we are having to scale the same cultural and psychological barriers and ask questions similar to those that Reed puts forth in his framework for exploring purpose.
We have made considerable progress, thanks to the ongoing work on the Kendeda Building for Innovative Sustainable Design and the recent design forum and sustainability strategic planning efforts.
If you are in or around the Atlanta region and interested in learning more about Regenerative Design, there are two events coming up that might be of interest to you:
At the Regenerative Design Summit, Joshua Gassman of Lord Aeck Sargent will moderate a panel discussion, which will focus on the topics Biomimicry, Biophilic Design and Ecotone and feature specialists Jeannette Yen (Georgia Tech), Sonja Bochart (Shepley Bulfinch) and Jose Alminana (Andropogon) respectively.
At the Net Positive Atlanta event, Joshua will co-present a session titled, 'Humid Climate Zero Energy: Keeping it Cool.'
We hope to see you at these events.
Comments
---